We need more green roofs

Sustainable construction, greener cities, and combating global warming are issues we face worldwide. Green roof solutions are one approach that can help us in combatting many of these challenges.
A green or living roof is partially or completely covered with vegetation and a growing medium, which is installed over a waterproofing system that may also include additional elements such as drainage and or irrigation systems on flat or slightly sloping roofs.
Still, there are many different types of green roofs - from flat, sedum roofs to urban farms producing fruit and vegetables - and they can be found anywhere: on municipal structures such as schools, libraries, or community centers, or on private structures such as residential housing, apartments and commercial buildings.
The benefits of green roofs are so important and significant today that many governments and cities are encouraging their construction by subsidizing green roof projects. Nevertheless, despite their many advantages and benefits uncertainty about the installation and maintenance costs is still an issue. We at Master Builders Solutions recommend liquid applied waterproofing membranes because the full bonding of the membrane offers a range of benefits and advantages that increase safety and reduce the cost of installation and maintenance of green roofs.
The many benefits of green roofs: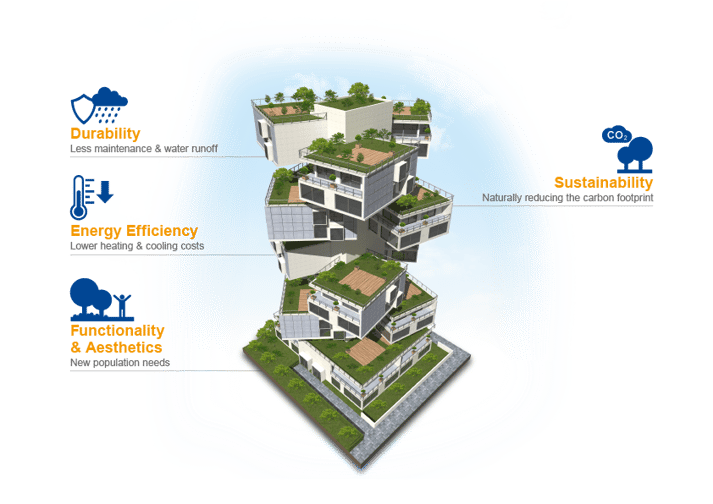 1. Waterproofing membranes are at the heart of the solution for green roofs
When planning a green roof, it is essential to keep in mind that roofs have a decisive role in the durability of buildings as they are the first line of defense against water ingress. Leaking roofs are often the most visible and commonly experienced failure in a building and can affect the functionality of the entire structure. It is therefore imperative that the existing fabric and structural load of the building is inspected to ensure that it is functional and safe to extend to a green roof solution.
The two most generic green roof types are

:
Intensive green r

oof: a thick layer of soil with big plants

Extensive green roof : a thinner layer of soil with smaller plants
With a track record in construction technology that stretches back over a century, waterproofing is genuinely in the DNA of Master Builders Solutions. We provide sustainable waterproofing solutions and a portfolio of certified liquid-applied waterproofing membranes for both types of green roofs.
2. Liquid applied waterproofing is an effective solution for green roofs
MasterSeal Roof is our certified liquid applied waterproofing system for green roofs.
A robust roof waterproofing system is vital to a building's envelope.
Liquid applied roofing systems form a fully bonded, seamless waterproofing membrane that avoid the need for welds and seams, which are typically the weakest link in any waterproofing system. Liquid systems also enable easy detailing by applying the membrane around obstacles quickly without the need for seams or prefabricated molded parts. Fast installation of the membranes and quick hardening benefit all parties, and typically, the systems can be applied without disrupting business activities.
The many advantages of liquid-applied waterproofing membranes:
Unlimited surfaces: Liquid systems allow the application of a continuous membrane on large surfaces without limitations, seams, overlaps, and bonding procedures.
Applicable in shaped substrates: Perfect forming to shaped surfaces. Workers can easily install spray-applied systems on horizontal, vertical, or sloped surfaces.
Easy detailing: Liquid systems allow easy detailing to create a continuous layer membrane around the roof elements without seams, prefabricated molded parts, mechanical fixings, or additional flashings.

Root resistance:

membranes with built-in root resistance prevent aggressive roots from breaking and penetrating the waterproofing system over time.

High chemical resistance

against fertilizers, herbicides- and other plant growth substances.
For

new and refurbished roofs:

Application is possible on any substrate type, even on existing roofs, without the removal of previous waterproofing systems. This offers tangible cost and time savings, including a reduction in the cost of disposing of the old membranes.

Lightweight: Adding minimal dead load to roofs ( Approx. 3 kg/m2 only )
Quick installation: The use of spraying equipment can achieve high application yields.

Quick-hardening

: A

pplication of successive system layers can proceed without delays or downtimes.

Long-term service life: MasterSeal systems can be applied on surfaces exposed to a wide range of temperatures, weathering, and rain conditions. The prevention of rigidization, softening, or UV-related damage expands the service life.
3. Seamless solutions for green roofs with MasterSeal
A seamless waterproofing solution for green roofs can be easily designed with MasterSeal Roof systems by choosing each element individually and taking the unique features of each project into account:
MasterSeal P primer forms the basis of any waterproofing system so that it performs as intended over time and enables the creation of a seamless membrane.


MasterSeal Roof systems can be installed on almost all substrate types including concrete, built-up felt asphalt, and timber. A substrate-specific primer is applied to the intended area and the liquid membrane is then applied directly onto this primed surface to achieve a continuous, seamless waterproof seal. It is important to remember that details such as skylights may require a different primer than the main surface.

MasterSeal M liquid applied waterproofing membranes using the table below, choose the performance characteristics which best suit the project.
MasterSeal TC 259 topcoat protects those areas such as walls or parapets which are not covered by the planting medium but are essential to ensure the continuity of the waterproofing barrier as well as the aesthetics of the green roof design.


More about configuration of green roof systems:
3.1 Technical properties of MasterSeal green roof systems
Factors such as the extension of the surface to be waterproofed, the accessibility of the area or the time schedule planned for the installation of subsequent layers of the green roof can lead to different requirements being placed on the waterproofing system. The MasterSeal Roof systems portfolio includes different technologies and systems to provide designers with a solution for most situations and conditions.
Overview over MasterSeal green roof systems:
| | | | |
| --- | --- | --- | --- |
| MasterSeal Roof System | 2111 | 2689 | 2160 |
| Membrane | MasterSeal M 811 | MasterSeal M 689 | MasterSeal M 860 |
| Technology | Polyurea hybrid | Pure polyurea | Polyurea hybrid |
| Application | 1:1 Hot spray applied | 1:1 Hot spray applied | Hand-applied |
| Reaction time (+20ºC) | 10 - 15 seconds | 4 - 7 seconds | 25 minutes |
| Ready for pedestrian traffic (+20ºC) | 2 hours | 30 minutes | 5 hours |
| Ready for mechanical traffic (+20ºC) | 2 days | 12 hours | 4 days |
| Consumption (kg/m2) | 2 – 2,5 | 2 – 2,5 | 2,5 – 3,5 |
3.2. MasterSeal Roof certifications
ETAG 005 & EAD Certifications:
These systems are tested according to the highly-regarded ETAG005 Guideline, which is the basic certification for liquid-applied systems for roof waterproofing, and according to EAD 030350-00-0402 "Liquid applied roof waterproofing kits," which replaced ETAG 005 in October 2020.
The system's classification/category is based on the intended use and is the same in both above-referenced guidelines:
Working life

: W1, 5 years; W2, 10 years or W3, 25 years.
Climate zone: M, moderate climate, or S, extreme climate.

User loads:

P1, non-accessible to P3 pedestrian traffic. P4 roof gardens and green roofs.

Roof slopes: S1 - S4: < 5% to > 30% slope
Minimum surface temperatures: TL1-TL4: +5 to -30ºC.

Maximum surface temperatures:

TH1-TH4: +30 to +90ºC.
Resistance to roots:
A second critical characteristic that needs to be fulfilled for waterproofing membranes to be used in green roofs, i.e., category P4 (inverted roofs, roof gardens, and green roofs), is the resistance against root penetration and perforation to prevent membrane damage. The different test methods are similar and provide a pass/non-pass assessment after a determined exposure period.
4. Resources for designers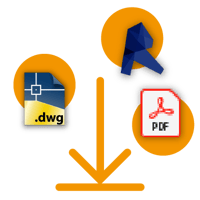 Our designer resources provide several relevant technical documents for each of the 3 MasterSeal Roof solutions:
System build-up and membrane datasheets to understand the system layers and their performance

Certificates and Approvals of each solution

BIM Objects (2D & 3D)


CAD Details
MasterSeal Roof 2111
MasterSeal Roof 2689
MasterSeal Roof 2160
5. Fast and easy specification of your green roof project
Collaborating with a roofing expert at the earliest possible opportunity can be vital to specifying the structure's right solution, including identifying key detailing issues.
Master Builders Solution's digital "Online Planning Tool" assists your team in specifying your green roof project in a few easy steps. All construction details are readily available via CAD details and BIM objects. Having these resources accessible makes importing and implementing our solutions in building plans simple and easy.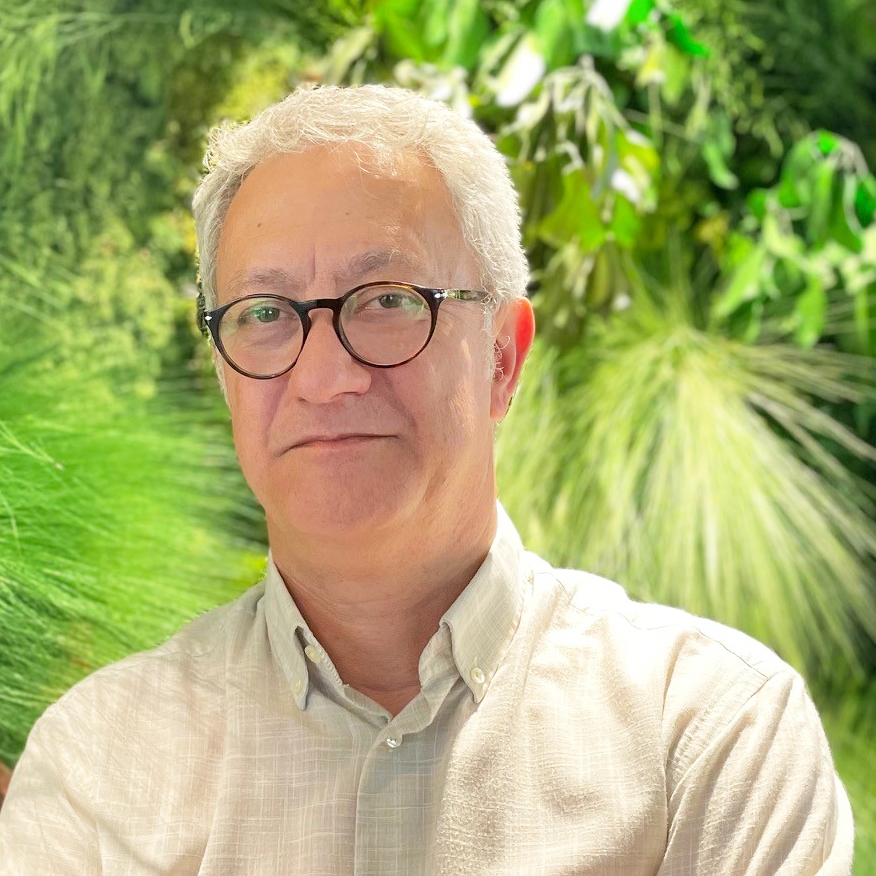 Contact
Albert Berenguel Puigdomenech
Expert Waterproofing - Europe